ZVIT medical is a European  company, develops  products,  turning  ideas from doctors into technology. We work together with professionals, entities and expert companies to obtain products appreciated by clinicians and patients.
We investigate and develop with

expert

entities
We create effective products exclusively for usage by expert professionals

Our project "TISSUE ENGINEERING FOR BONE AUGMENTATION FOR DENTAL IMPLANT FIXATION" DENTIMPLANT with "ciber-bbn".
---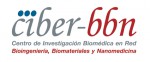 link ciber bbn
---
Nuestros proyectos de investigación y desarrollo
We are working on dental implantology and on biostructures for the restoration of human bone. We take into account the ease of application of the products for the clinician, and the answer and attitude of the patient before the treatment. Our motto is to collaborate in prevention, and to obtain, beyond repair, the restitution of lost tissues.
"We are creating future with the experience of great professionals that work for the excellence of our research"
Dental implant YAKVIT – 2 project: YAKVIT-2:
30%
Osseous regeneration project DENTIMPLANT:
80%